This past Halloween, I was busy making Halloween costumes when I was reminded of one of the basic rules from my days in high school Home Ec. Our Home Economics teacher was fantastic! One of her basic rules was to make sure we filled 3 bobbins of thread before we started any project.
She told us that it would always save us time and we would be grateful to have a backup bobbin ready when we ran out of thread in the middle of a project. She was, of course, absolutely right. After all, no one wants to be in the middle of running a long seam of stitching and have to stop, un-thread the sewing machine, run the bobbin, re-thread the sewing machine and then try to get back into the rhythm of sewing. That totally breaks your sewing focus!
Basic Sewing Rule Reminder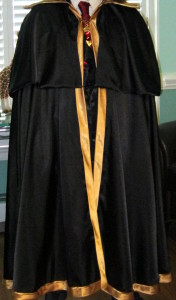 It was not that I forgot my years of instruction and experience, or even discounted their validity. It was simply that I did not have any empty bobbins on hand. I told myself not to worry. It wouldn't be bad. I could quickly run a bobbin of thread when I used all of the bobbin thread. Let me tell you, as fate would have it, I was about halfway down the front of the costume edge bias binding trim strip when I ran out of bobbin thread. Extremely bad timing to say the least!
After taking a few minutes to blast my own stupidity, I had no choice but to move the yards of fabric that was neatly laid out and pinned, remove the thread from my sewing machine and fill the bobbin. Then, begin again.
Yes, it was doable. Yes, I did finish the cape, but I never want to go through that anxiety and frustration again. I love sewing. I love designing costumes and making unique outfits for my family, but I never want to start another sewing project again without extra bobbins threaded and ready for immediate use.
I guess we can call this a lesson relearned, but this time, the hard way!


Bobbins & Bobbin Box Storage Organizers
20 Pk Singer Class 15 # 2518 Metal BobbinsCheck Price ArtBin 8155AB Bobbin Box, Translucent ClearCheck Price Dritz 12-Piece Box of Bobbins, Class 15Check Price Set of 2 Bobbin Box OrganizersCheck Price
Originally posted 2014-03-04 14:54:56.
---