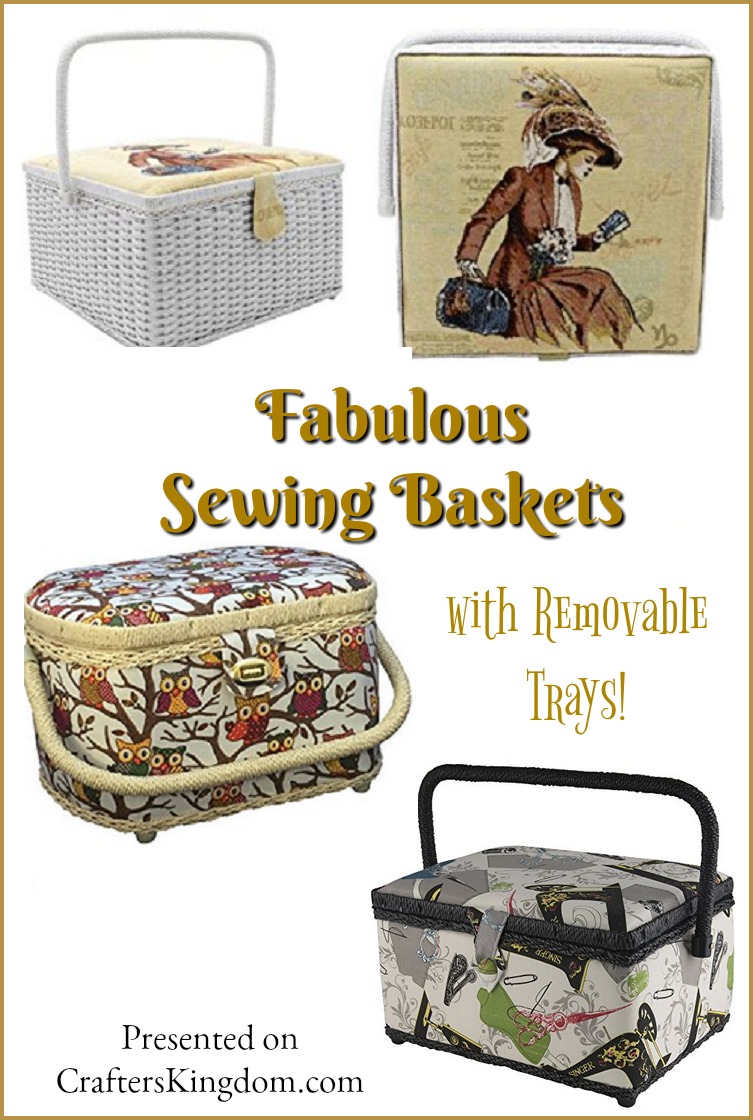 My sewing basket is one of my personal favorite sewing accessories.  Sewing baskets provide a place for the sewing notions you need every time you sew.  Since most of them come with a handle, they are easy to carry from place to place, or from one work area to another.  They are the perfect storage place for necessary sewing supplies.
I remember my own search for a sewing basket that would fit my needs.  I knew I wanted it to be large enough to hold a lot of accessories including an assortment of threads, scissors, my bobbin case and pin cushion.  Plus, I knew I wanted it to have a removable compartmentalized tray to hold buttons, loose needles, loose bobbins, a seam ripper, a measuring tape, a package of sewing machine needles, and various other small notions that could be easily lost.  Plus, I discovered it high school that it was absolutely necessary that the handle be attached on either side and not on the opening top.
I have included several sewing baskets in this article.  Each has a feature that makes it desirable.  The one that you prefer will depend on your own personal needs.
Sewing Baskets with Removable Tray
Perfect for a Beginner
 Michley Sewing Basket
with 41-PC Sewing KitCheck Price
Believe it or not, not all sewing baskets have removable trays.  Some are just deep baskets that you pile everything into.  However, I find a tray to be essential.  There are simply way too many small sewing notions that you need to find easily.  In addition to organization, I don't want to jab myself with pins and needles while digging around in a full basket.
The basket featured on the right as a really nice compartmentalized lower tray as well.  It holds a nice assortment of threads, bobbins, a measuring tape, a thimble, a seam ripper, needles and a needle threader.  All of those notions come with the basket, but I would expect to replace them with quality notions.  Having a second tray though is way too cool!  I wish I had found this basket 40 years ago.  I would love having two trays.  Plus, the fabric exterior is adorable.
Basket measures 10.5 x 8 x 6.7 inches
Singer Sewing Baskets
Perfect kit for the Beginner
 Singer Vintage Sewing Basket with Sewing Kit Accessories 07281Check Price
Singer is a name we have trusted for decades!  We expect them to know what we need even before we know what we need.
This is a nice, small sewing basket with a removable tray.  The Singer sewing baskets are available in a variety of exterior fabric designs.
It also comes with a basic notion kit that includes scissors, thread, needles, pins, measuring tape, thimble, seam ripper, needle threader, and the ever popular tomato pin cushion.  However, just like the sewing basket shown above, I would expect to need to replace the notions with higher quality accessories, especially the thread.
By the way, I would not recommend sticking the scissors in the fabric pocket on the lid even though it shows them there in the picture.
Measures: 10.5 x 8 x 6 inches
Large Sewing Basket
Perfect for Anyone
 SAXTX 100% Handmade Extra Large Sewing Basket with 107 Pcs Professional Accessories|Vintage Wooden Sewing Box Organizer |Sewing Kit Baskets with Compartments, 13.4 x 13.4 x 8 inchesCheck Price
If you plan on doing a lot of sewing, I would recommend a larger sewing basket than the two shown above.  Height and size really do matter if you want to store patterns and project fabric in the basket.   I often cut my pattern pieces and fabric the day before I actually start sewing.  It is really nice to be able to fold it all together and place it in my sewing basket until I am ready to head to the sewing machine.
This sewing basket measures 13.4 x 13.4 x 8 inches.  You would be amazed by what you can fit in a sewing basket.  By simply increasing the size by a few inches in-depth, width and especially height, it is greatly improved.
It is also very pretty.  There are several top image designs available.
It also comes with notions, but I would replace them with my own higher quality sewing scissors, thread, etc.  Because it is so hard to find a new, really good sewing basket, I wouldn't hesitate to pay the higher price for something that will last for decades.  One that would grow old along with me.  I love to sew!  Therefore, I would choose a sewing basket that fits my needs like this larger option.
 SAXTX Handmade Extra Large Sewing Basket with 107 Pcs Professional Accessories|Vintage Wooden Sewing Box Organizer |Sewing Kit Baskets with Compartments, 13.4 x 13.4 x 8 inchesCheck Price SAXTX Crafts Sewing Storage Box Containers Extra Large Double Layer with Tray,Handmade Embroidery Sewing Basket with Multiple Compartments| Best Gift Boxes for Mother,13.4″x 13.4″x 8″Check Price SAXTX 100% Handmade Extra Large Sewing Basket with 107 Pcs Professional Accessories|Vintage Wooden Sewing Box Organizer |Sewing Kit Baskets with Compartments, 13.4 x 13.4 x 8 inchesCheck Price
---