How to Make a Halloween Ghost with Fleece Tutorial
Halloween Ghost Decoration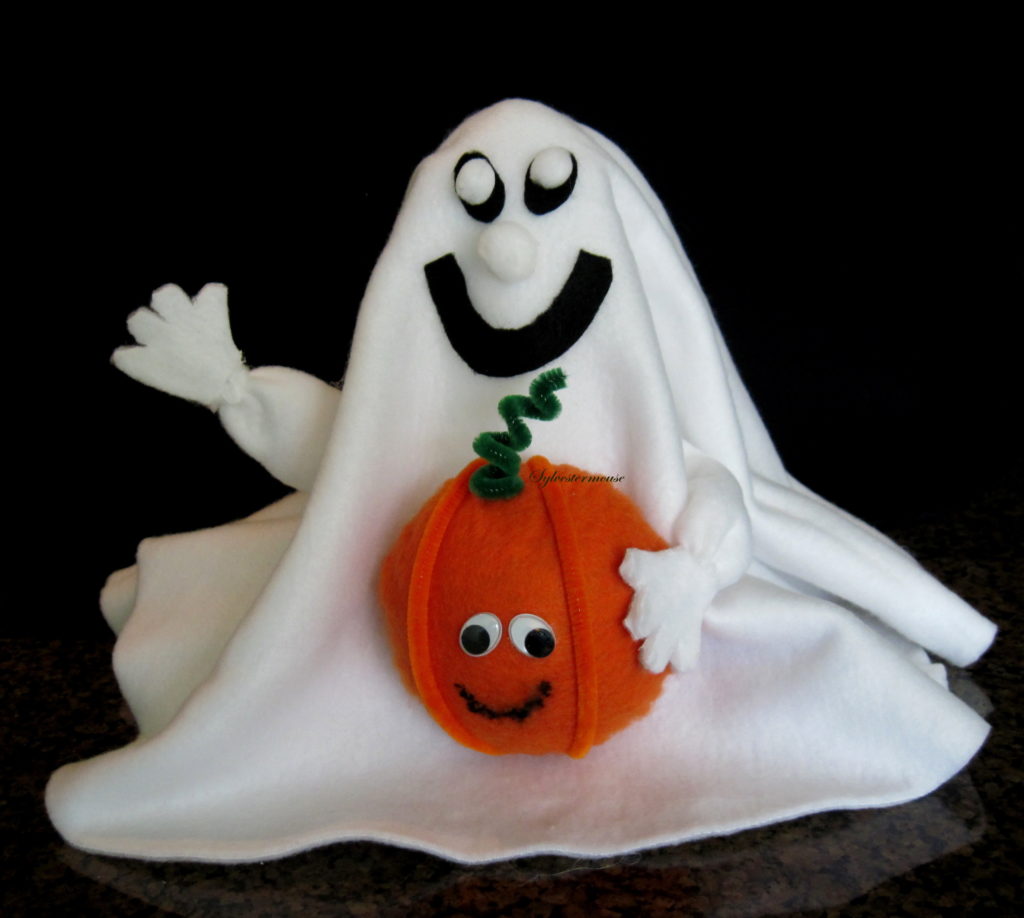 Add a little fun to your Halloween table with this Halloween Ghost Decoration.  In this article, I share my step by step instructions to make your own ghost out of fleece.  He would be the perfect centerpiece for your party or just be a special friend to help you celebrate the holidays and get into the spirit of the All Hallows Eve.
This friendly little guy will share a smile and wave to your friends as he shows off his own personal little pumpkin which is also adorable.  Together they make the perfect combination of friendly and decorative.
He is very easy to make and even easier to love.  His fleece is so soft, you may even be tempted to give him a hug.  Of course, he might not be easy to keep.
Every time I make a new one, someone else wants to take him home with them.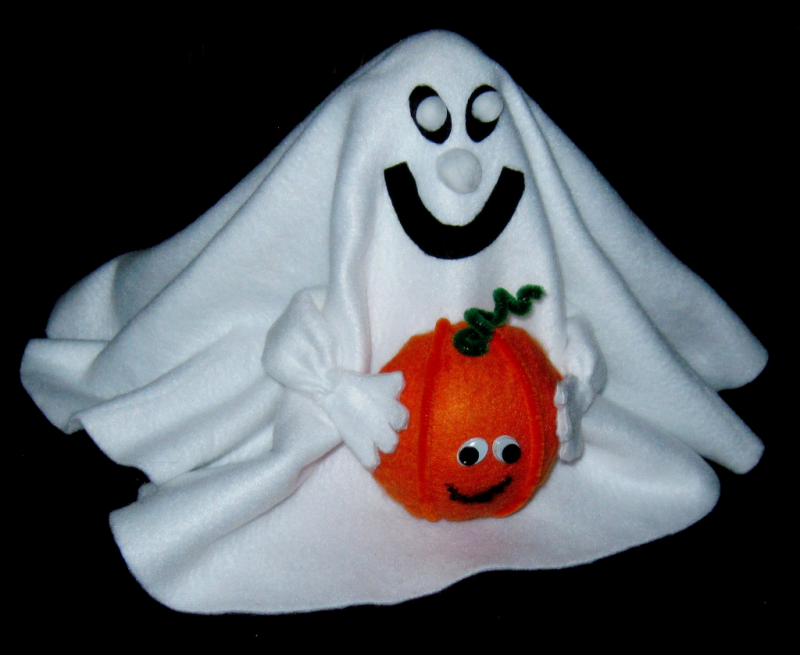 Supplies to Make One Fleece Ghost Holding a Pumpkin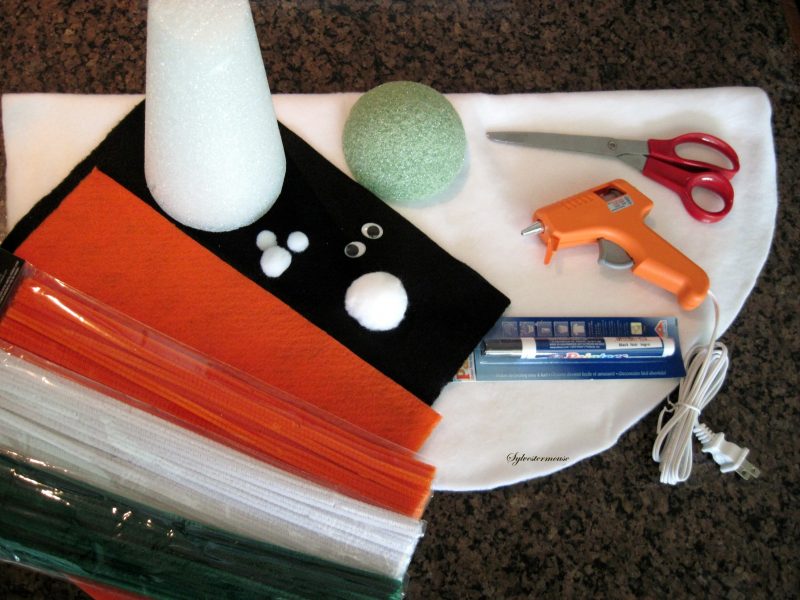 | FOR THE GHOST | FOR THE PUMPKIN | TOOLS NEEDED |
| --- | --- | --- |
| White Fleece ~ 3/4 yd of 45″ or 60″ material | Orange Felt Square | Low Temp Glue Gun |
| Black Felt Square | One Green Chenille Stem | Glue Sticks |
| One White Chenille Stem (pipe cleaner) | Two Orange Chenille Stems | Scissors |
| One White Pom Pom ~ 1″ | Two Wiggle Eyes ~ Oval ~ 15MM | Needle |
| One White Pom Pom ~ 1½" | Styrofoam Ball | |
| Two White Pom Poms ~ ½" | Black Paint Pen | |
| Styrofoam Cone ~ 12″ x 3 ⅞" Cone | | |
| White Thread | | |
White Anti Pill Solid Fleece Fabric, 60Check Price
50 Sheet Assorted Acrylic Craft FeltCheck Price
FloraCraft Foam 12Check Price
Floracraft Styrofoam Ball, 4-Inch, White, 2-PackCheck Price
Creativity Street Stetems/Pipe Cleaners 12Check Price
Creativity Street Stetems/Pipe Cleaners 12Check Price
Darice Victoria Lynn Chenille Stems 6mm 12Check Price
Charles Leonard Inc., Wiggle Eyes, Oval, Assorted Sizes/Black, 100/Bag (64560)Check Price
Darice 40-Piece Acrylic Pom Pom, 1-Inch, WhiteCheck Price
Darice Pom Poms 1/2Check Price
Pom Poms 1.5Check Price
Elmer's Painters Opaque Paint Marker, Medium Tip, Black (7327)Check Price
&
 Surebonder L-270 Low Temperature Standard Glue GunCheck Price
Low Temp Glue Gun
The low temp glue gun allows you to get glue into small places without burning your fingers.
When I started crafting, the industrial high temp glue gun was the only glue gun available.  Of course, at the time, I thought it was the greatest creation ever, until I burned my fingers.  Hot glue from a high temp glue gun can burn severely.
I now own several low temp glue guns.  I keep several on hand for those times when friends get together to craft.  I always want to have a glue gun for everyone who comes to a craft party.
I also buy huge bags of low temp glue that fit each glue gun style.  When you purchase a glue gun, be sure to buy the right shaped glue stick to fit your glue gun.
Cut Pattern Pieces for Halloween Ghost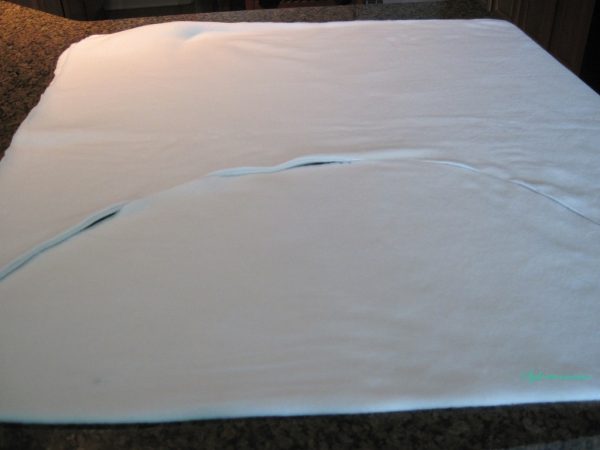 FABRIC PIECES FOR GHOST
It is Easier to Cut all Pieces and Then Assemble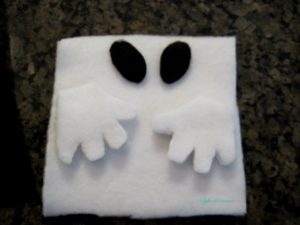 Step 1:  Cut White Fleece Piece to 24″ Diameter
(See Photo Above)
Step 2:  Cut 2 Square of White Fleece for Sleeve ~
4″ x 4″
Step 3:  Cut 4 Hands ~ Mitten style
(1 thumb & 3 Fingers) ~ 1⅞" w x 1¾" h each
(Cut two at a time so they will match exactly)
Step 4:  Cut Black Felt Ghost Eyes ~ 2 pieces ~ 1⅛" h x ⅝" w
Step 5:  Cut Black Felt Ghost Mouth ~ Outside measures 2¾ w x 1⅞" h
Step 6:  Cut White Chenille Stem in half
Step 7:  Cut approx. 4″ off the top of the Styrofoam Cone ~ Top of the Cone should be approx. 2″ wide after tip is cut off.
Note:  The Styrofoam Cone is the base of the ghost body.   Even though it is necessary to cut off the tip, you will still need to start with the 12″ cone. A shorter cone would give him a pointed head.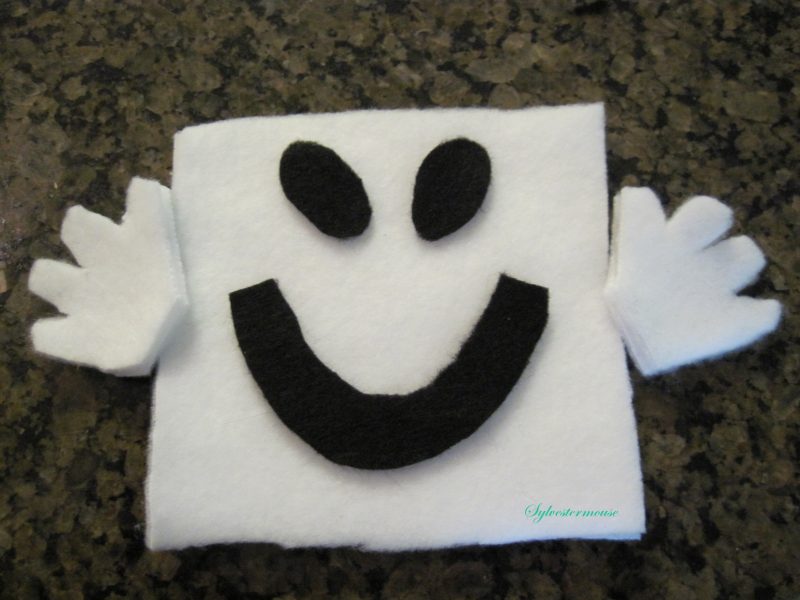 FOR PUMPKIN
Step 1:  Cut 8″ Orange Felt Square
Step 2:  Cut Styrofoam Ball in half
When it is time to assemble the pumpkin, the orange felt square will wrap around the Styrofoam ball half like you see in the photo.
Assemble Halloween Ghost
See Step by Step Photos Immediately Following Written Instructions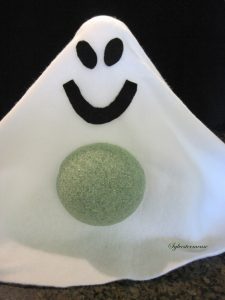 Step 1:  Glue 1½" White Pom Pom on the top of the trimmed Styrofoam Cone
Step 2:  Drape and center cut, round Fleece over Cone to make Ghost body
Step 3:  Glue Fleece in place on top.
Glue lightly on top only to hold fleece in place
Step 4:  Determine placement of black felt Eyes, Mouth & Styrofoam Pumpkin Ball on Ghost.
Felt pieces and Styrofoam ball will stick well enough to place before glued permanently in place.
Step 5:  Glue black felt Eyes and Mouth on Ghost.
Step 6:  Glue ½" White Pom Pom on black felt Eyes of Ghost.
Step 7:  Glue 1″ White Pom Pom in place for Nose of Ghost.
DO NOT GLUE ON PUMPKIN BALL NOW!
At This Point, Set Ghost Aside Temporarily to Make Ghost Arms
Step by Step Photos of Halloween Ghost Assembly
This slideshow requires JavaScript.
Make Ghost Arms
Step by Step Photos Follow Written Instructions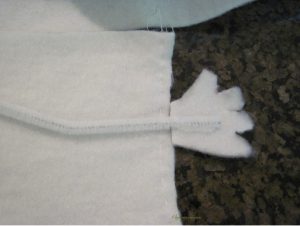 Step 1:  Glue tip of White Chenille Stem to one Hand
Step 2:  Hand Sew a Gathering Stitch in one side of 4″ White Fleece Square.
Step 3:  Make the Sleeve Seam by Gluing the Top of Fleece Square to the Bottom of the Fleece Square.  Be careful to not catch the gathering thread in the glue.
Step 4:  Turn Sleeve piece inside out so Glued Seam in on the inside the Sleeve.
Step 5:  Place White Chenille Stem with Attached Hand inside Sleeve.
Step 6  Pull Gathering Thread, Gathering Sleeve End around Base of Hand. Tie off Thread.
Step 7:  With Sleeve Seam Down and Thumb on Hand Pointing Up, Glue the Top Hand Piece over Thread Ends and Chenille Stem to Back Hand Piece. (See Photo Below)
Step 8:  Arm Placement on Ghost Body ~ 3½" from bottom of Ghost Body (Cone) ~ Snip small hole in fleece. Poke arm through Hole in Fleece, into Styrofoam Cone Body and glue to secure arm.
Step by Step Photos for Making the Ghost Arms
This slideshow requires JavaScript.
Make Pumpkin for Halloween Ghost to Hold
Step by Step Photos Follow Written Instructions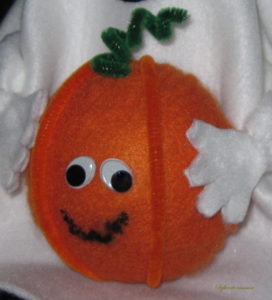 Step 1:  Cover Styrofoam Ball half with Orange Felt.  Glue Felt Edges on the back of the ball.
Step 2:  Place Orange Chenille Stem across Pumpkin from top to Bottom and Glue Ends of Stems on Back of Pumpkin.
Step 3:  Wrap Green Chenille Stem around a pencil and cut to desired length.
Step 4:  Glue Green Stem into top of Pumpkin.
Note:  May need to poke a small starter hole in felt and Styrofoam Ball for green stem.
Step 5:  Glue on Pumpkin Eyes
Step 6:  Draw Mouth on Pumpkin with Black Paint Pen.
Step 7:  Glue Pumpkin on the Ghost.
Step 8:  Glue One or Two Ghost's Hands on Sides of Pumpkins
Note: I used a green Styrofoam ball because it is what I had on hand when I made the ghost.  The white Styrofoam ball is often less expensive. The green Styrofoam balls are usually for floral arrangements.
Step by Step Photos for Making the Pumpkin for Ghost
This slideshow requires JavaScript.
Finished DIY Halloween Fleece Ghost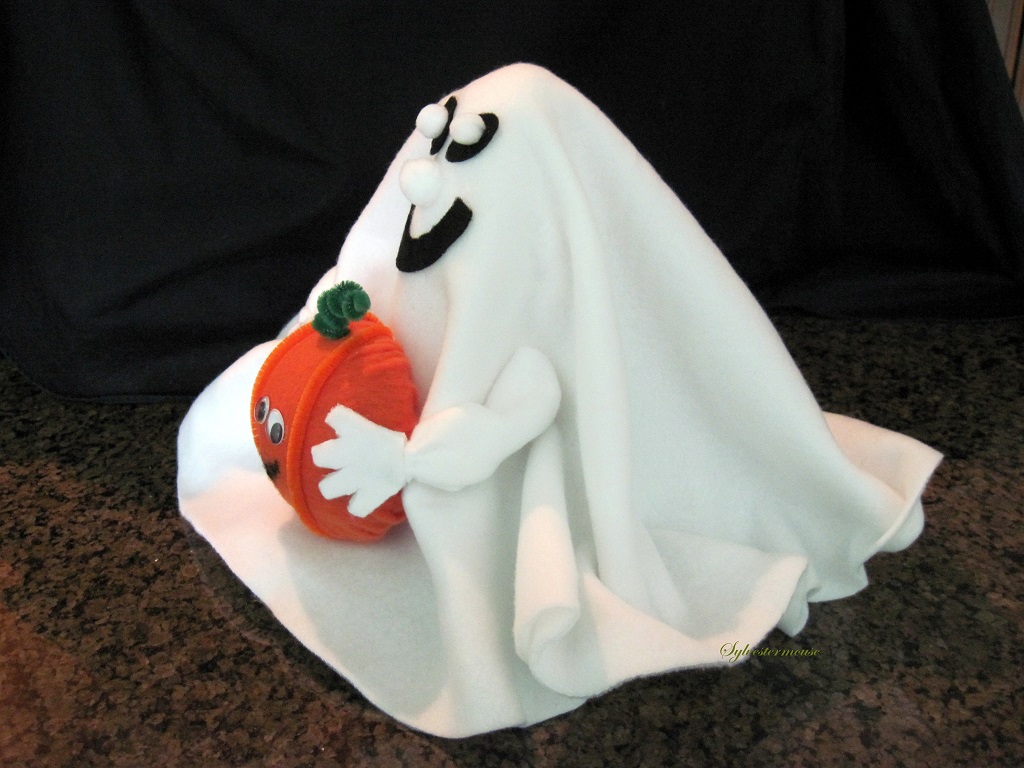 Which Do You Prefer?
After making several of these Halloween Fleece Ghosts, I have found that some people prefer both hands holding the pumpkin, while others prefer the Ghost waving. So tell me, which one do you prefer?
Share the Halloween Ghost Tutorial with Friends & Family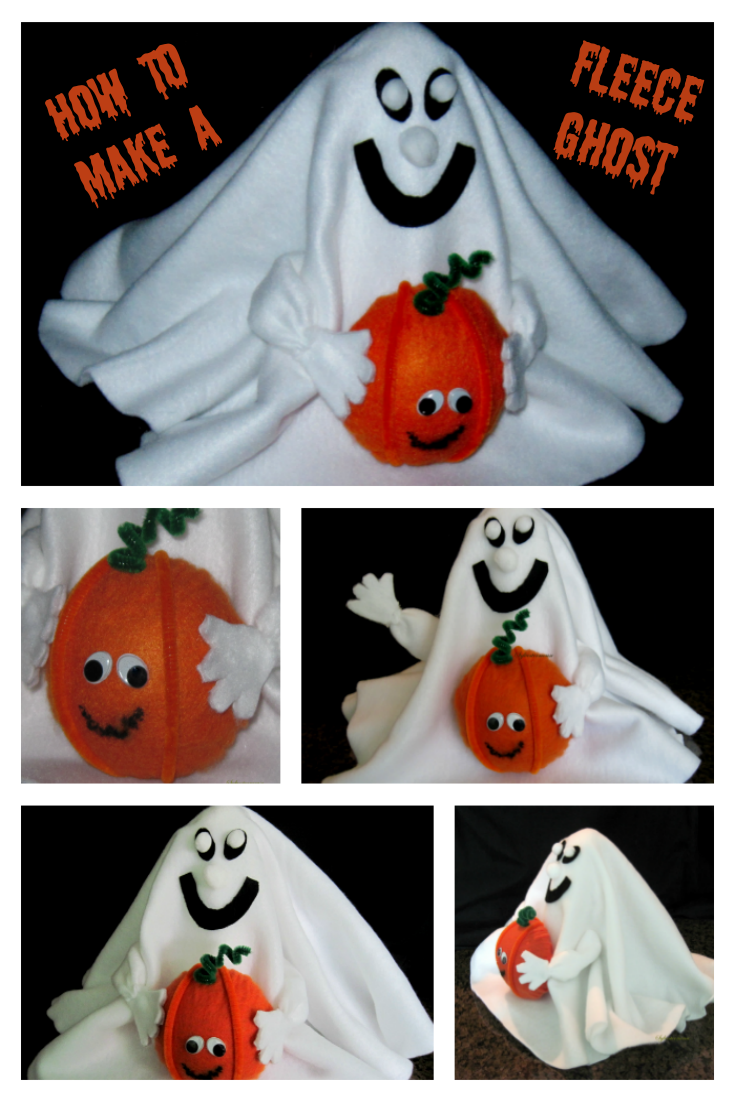 Originally posted 2016-10-05 22:19:43.