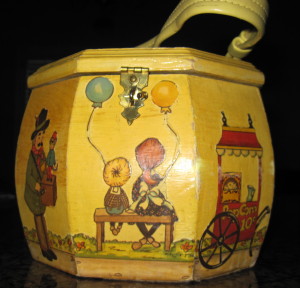 A Real Treasure From My Past
Decoupage purses were a popular fashion trend back in the 70's.  I was in my early teens when my grandmother painstakingly made this wooden decoupage purse for me.
I carried it with pride, not just because it was a popular fad, but because it was a gift from my beloved grandmother.
Take a walk with me in the past and I will tell you how she made this purse.  Who knows, maybe you will decide it is worth the time and the effort to bring this fad back to the height of fashion.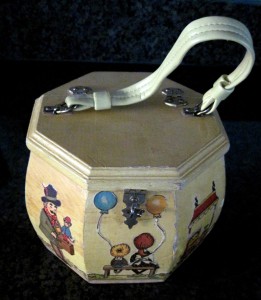 Supply List
A Box Purse
Hardware: Hinges and Lock
Handle with Hardware and Screws
Paint
Pictures
Varnish (Mod Podge Recommended)
Felt Square
Small Screwdriver to attach Hardware
How to Decoupage A Wooden Purse
Step 1:  Prepare wooden purse by lightly sanding
Step 2:  Paint wooden purse with acrylic paint ~ Allow to completely dry
Step 3:  Cut out pictures
Step 4:  Glue pictures on painted purse ~ Allow to completely dry
Step 5:  Varnish (Mod Podge) the entire purse exterior 3 – 5 times allowing it to completely dry between each coat of Mod Podge
Step 6:  Attach all hardware and handle
Step 7:  Glue felt pieces on the bottom of the wooden purse
Mod Podge, Wooden Purse and Additional Decoupage Ideas
Mod Podge is the best decoupage product for varnishing your craft. It is easy to use and is available in either a matte or a glossy finish. It is water based and non-toxic.
Simply apply Mod Podge with a paint or sponge brush.
Mod Podge CS11303 Waterbase Sealer, Glue and Finish,MatteCheck Price Darice Purse Craft Light Unfinished Wood with ClaspCheck Price Decoupage Paper Pack (10sheets A4 / 8Check Price DIY Decoupage Ideas – Free DownloadCheck Price
My Treasure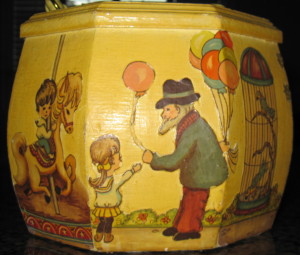 There is no doubt that my grandmother spent many hours sanding, painting, cutting out pictures, gluing, varnishing and finishing this decoupage purse for me.  I can assure you, no one ever had a more grateful recipient of such a precious gift.
I carried this purse for years.  You can see the battle scares in the photos.  I consider this purse one of my most treasured possessions and even though I have decoupaged many things over the years myself, this is still the very best.
Additional Photos to Show Other Sides of My Decoupage Purse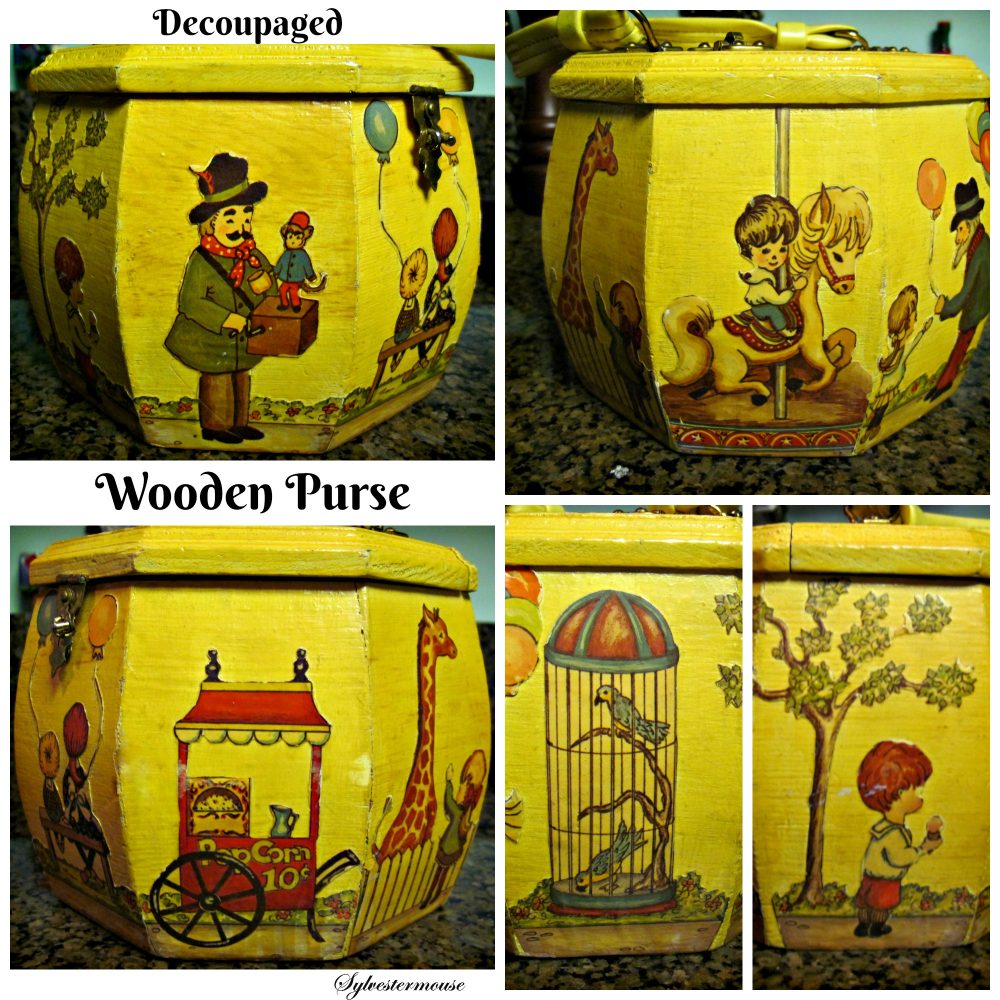 ALL PHOTOS ARE THE EXCLUSIVE PROPERTY OF SYLVESTERMOUSE and ARE NOT TO BE USED OR COPIED WITHOUT WRITTEN PERMISSION
Originally posted 2015-08-05 16:15:20.
---