Kitchen Islands Are Perfect Craft Tables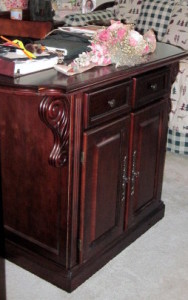 Using a kitchen island for your craft table in your craft room may sound like a strange recommendation at first, but I can assure you, it is the perfect choice.
Kitchen Islands are designed to be work counters and work areas. They are the perfect height for times when we need to stand instead or sit, and can easily accommodate 2 stools for crafting with a friend.
Gone are the days of having to use the kitchen table or a portable folding table when I craft. I surely wish I had thought of using a kitchen island as a craft table sooner!
Selecting the Right Craft Table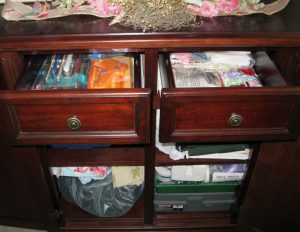 Before I made my buy, I looked at dozens of craft tables. Each one have an attribute that appealed to me, but none seemed designed to accommodate my vast assortment of craft supplies and varied craft interests. I needed a few drawers, but not all drawers in my craft table. I needed a cabinet with shelves, but didn't want it to be all cabinets. As a result, I simply kept postponing my buy of a craft table for my craft room.
Surprisingly, I was walking through Home Depot on a totally different mission, when inspiration struck! I saw exactly what I needed. Well almost. They didn't have the right color and finish for what I envisioned for a craft room, but I saw just enough to know what to search for online.
Back home, behind my "window for all stores", my computer, I found exactly what I wanted in less than five minutes by simply looking at kitchen islands on Amazon.com
.
My New Craft Table
Since I was converting a guest bedroom into my craft room and I wanted to use the bedroom suite dresser and chest of drawers for storage, I opted to match the existing furniture with a cherry kitchen island.
The kitchen island I purchased is no longer available, but here is a similar option that features the drop-down table on the side. For me, that was essential since it is a small room that I converted to a craft room. Unless I am using my table, the top stays down, allowing room to move around on all sides of the table.
Aspen Rustic Cherry Kitchen Island by Home StylesCheck Price
Choosing the Perfect Craft Table for Your Craft Room
When choosing the right craft table for your craft room, I recommend seriously assessing your own personal needs and how you normally work when you are crafting. Because I used the existing chest of drawers and dresser for drawer storage, I needed a small cabinet with only 2 drawers accessible when working.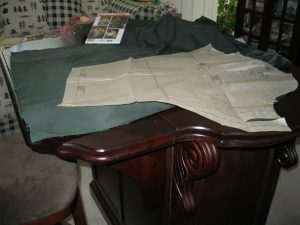 I also wanted the drop leaf table style so I could make a larger table when cutting out patterns or making flower arrangements, but when dropped, would take up less area in the room. Smaller projects, like my beaded ornaments, only require a small work area with my sorted beads around me for easy access when assembling the ornament. The island with the leaf down is perfect for that type of project.
Checklist for Assessing Your Need in Selecting Your Craft Table
1. Number of Drawers
2 Number of Cabinets
3. Glass or Solid Cabinet Doors
4. Shelves (internal or External)
5. Do you Need a Towel Bars (for hanging projects to dry, etc)
6. Spice Racks (perfect for paint bottles, etc)
7. Wine Racks (perfect cubby holes for jars, containers, etc.)
8. Table Top Style: Drop leaf, Butcher Block, Stainless Steel, etc.
9. Do you Need Wheels (I do recommend locking wheels)
10. Measure the Area of Placement to Determine Size
11. Select Color and Finish
12. Decorative Accents
Kitchen Islands for Craft Tables
Because there really are so many different kitchen islands available in numerous styles and sizes with varied features, I have included several for your to look at and consider. As crafters, I have no doubt that you will be able to look at these pictures and easily envision your craft projects and supplies displayed in place of the mugs, mixing bowls and bottles.
 Home Styles 5094-94 Americana Kitchen Island, Antique White FinishCheck Price Crosley Furniture Butcher Block Top Kitchen Island in Cherry Finish with 24-Inch Cherry Upholstered Square Seat StoolsCheck Price Crosley Furniture Alexandria Natural Wood Top Wine Island – WhiteCheck Price Crosley Furniture Stainless Steel Top Kitchen Cart/Island in Black Finish with 24-Inch Black Upholstered Saddle StoolsCheck Price
I have also included one style above for those of you who may need a craft table that is space efficient. The stools will easily store under the drawers on the Crosley Cart. (Pictured on the bottom right of the featured kitchen island photos above.)
Seeing this many options available actually makes me wish I had a craft room for every different craft project!
Originally posted 2013-09-03 20:21:12.