Beaded Cross Stitch Tutorial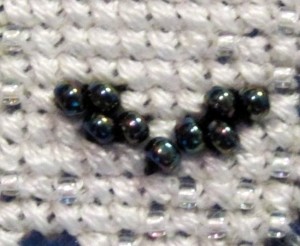 Why Add Beads to Cross Stitch Pictures & Projects
Adding beads to your cross stitch pictures and projects, is a beautiful and easy way to add unique detail to your needlework. Glass beads are great for drawing attention to a particular color, a specific point of interest or simply to reflect light.
Simple Directions for Added Beads to a Cross Stitch Project
Embellishing a cross stitch picture with beads is as easy as cross stitching itself. You simply add a bead onto the floss and cross stitch through it as you cross stitch through the aida cloth or material.
Beaded Cross Stitch Step by Step Tutorial
For a cross stitch beading tutorial with photos, be sure to visit How to Make a Halloween Beaded Cross Stitch Pin where I show you step by step how to add beads to your project. Who knows! You may end up loving the little ghost pin and want to make it too. Either way, you will find the beading tutorial there with diagrams and actual photos of cross stitch beading.
STEP BY STEP BEADED CROSS STITCH TUTORIAL With PICTURES
Adding Beads to Cross Stitch Kits that Do Not Include Beads
Most cross stitch kits do not include beads, but don't let that stop you. Simply purchase the kit you love and add your beads. I have published several articles giving examples and suggestions of how to add beads to detail and embellish a cross stitch picture kit that was not sold with beads. From animals, to holidays and floral picture kits, you will find tons of specific suggestions on adding beads for emphasis and creating your own unique needlework masterpiece.
BEADED CROSS STITCH TUTORIALS & ARTICLES
By CATEGORY
Christmas Beaded Cross Stitch Easter Beaded Cross Stitch Valentine's Day Beaded Cross Stitch Thanksgiving Beaded Cross Stitch Halloween Beaded Cross Stitch Animals Beaded Cross Stitch Christian Beaded Cross Stitch Floral Beaded Cross Stitch