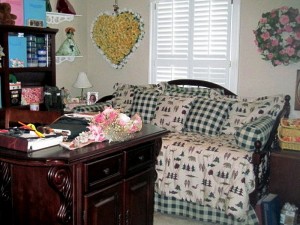 For many years, I have dreamed of having a dedicated craft room, but we simply did not have an extra room in the house to commandeer just for crafts.
However, many times I have thought how wasteful it was to have a guest bedroom we use a few weeks out of the year for company during the holidays or special occasions.
Each time I cleaned that room, I thought there had to be a better use of that room the other 50 weeks out of the year. Then, one day, eureka! It hit me and I wondered why I hadn't thought of it before!
Converting the Guest Bedroom Into My Craft Room
I did it! I converted that guest bedroom into my craft room without eliminating any of the furniture except the queen size box spring and mattress. Now I am thrilled to say I have a combination craft room / bedroom which I absolutely love and the room certainly gets used a lot more often.
Let me tell you what I did just in case, you too, would like to convert that guest bedroom into a craft room.
Steps to Converting a Bedroom Into a Craft Room
I removed the queen size bed and replaced it with a day bed with a trundle with mattresses (or under the bed could be used for storage space if a single bed is sufficient.)
Replaced the dresser mirror with matching shelves.
Added a Kitchen Island to Use as a Work Table and storage underneath.
I am using the original dresser and chest of drawers for additional storage.
Add organizers, jars, containers, etc. for easy storage and access on the shelves.
Added bookshelves on room entrance wall. Because they are not very deep, these shelves are perfect for the wall with the doorway.
Add a chair. I selected a swivel stool style chair to add behind my kitchen island.
My Choices When I Converted My Craft Room
 Sauder Heritage Hill 5 Shelves Bookcase in Classic Cherry FinishCheck Price ClosetMaid 829900 Fabric Drawers, Pink, 2-PackCheck Price Boraam 49824 Augusta Swivel Stool, 24-Inch, CherryCheck Price
Reasons for My Choices When I Converted My Craft Room
I chose the Sauder shelves based on experience. They are easy to put together and when finished, they look a lot more expensive than they actually are to purchase. These shelves only measure 13″ deep which is perfect for books, shelf organizers, and supplies without blocking the doorway.
I selected the Closet Maid fabric drawers to add additional storage and placed them on top of the shelves. I now store my cross stitch kits and beading kits in those drawers. They are light weight enough that that are easy to pull down off the top of the shelf. They are tall enough and wide enough to hold the standard size craft kit and they are study enough that they do not bend under the weight of the kits leaning against them. The biggest plus; I can easily flip though my kits when I am ready to make my selection.
The swivel stool I chose had to be the right height for the island. In my case, 24″ is the perfect height. Since it swivels, I can turn around, without getting up, to access supplies on my shelves and effortlessly swivel right back around to my work table. I also really love the padded seat. When I start a project, I can easily sit for several hours. Comfort is imperative!
Save
Originally posted 2013-06-07 18:49:46.
---