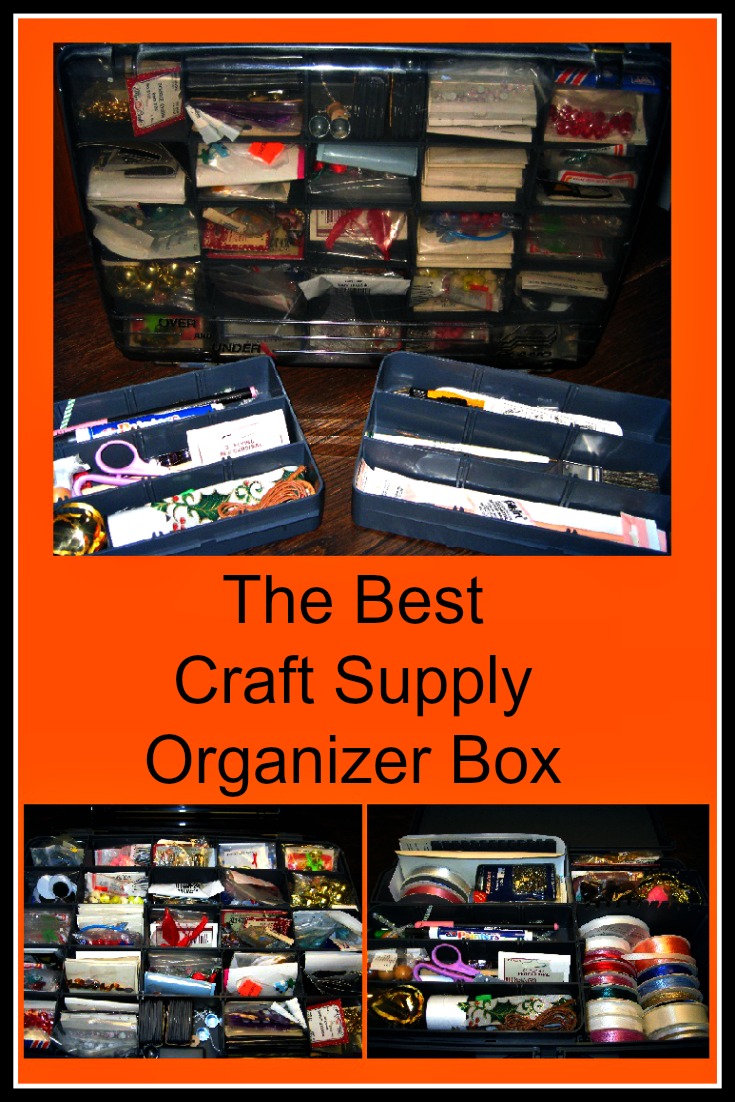 There are dozens of craft supply organizers available today.  However, decades ago, when I needed one, they were not as readily available.  Even today, I would choose the main one I use over every other organizer on the market.  It was not made to be a craft supplies organizer, but it works beautifully as one, and is often less expensive than something in a craft store.
My craft supplies organizer is the Plano Over and Under Fishing Tackle Box.  It's like having a portable craft room!
Not only do I use this organizer for my own crafts, but when my children were in elementary school and needed supplies for a school project, I reached for my tackle box.  I keep it filled with pipe cleaners, beads, craft pearls, ribbon, etc, as well as scissors, pliers, paint pens, permanent marker, craft glue, jewelry glue, and more.
This is not my personal sewing supplies or cross stitch organizer.  There are separate styles that are more appropriate for those hobbies.  This is the craft supply organizer the whole family uses.
The Best Craft Supply Organizer Box
 Plano 1444 Magnum Guide Series Tackle BoxCheck PriceIt might be a little surprising to learn that I use a tackle box for my craft supplies, but it really is the perfect craft supply organizer.  The top section has over 20 sections intended for fishing lures, but perfect for beads and small crafting supplies.  Since the lid is clear, you can see what is in there before you ever open it.
The lower area is also sectioned, with trays that lift out.  That is where I keep my crafting glues, scissors, paint pens, etc.  There is also one area that is a wide and deep section that is perfect for my rolls of craft ribbon.
My specific Plano tackle box was long ago sold out and discontinued.  The tackle box featured on the right is the closest to my organizer that I could find available.  Before you invest in a craft supply organizer found in craft stores, I recommend taking a look at the fishing tackle boxes sold in most department store chains or on Amazon first.  Compare the size and cost of a large tackle box to the specified craft organizers.  You just might be surprised by how much money you can save.
 Plano 1349-00 Two Level Magnum 3449 Tackle BoxCheck Price Plano Double Cover Two Sided Tackle Organizer, Premium Tackle StorageCheck Price
Originally posted 2019-08-07 21:14:42.
---