Felt Centerpiece Kits for Pretty Table Decor
When you are looking for great table decor you can buy and create amazing Felt Table Top Kits to add a felt centerpiece to your holiday table.  The season of family gatherings and get-together evenings with friends can be even more special and reflect how much you care about your guests and your time together.
Going out of your way to give your guests a great experience and a fond memory is more than just saying how important they are.  It is about showing them.  When you are setting the table you can use handmade centerpieces to give your table extra festive flair.
Bucilla Felt Centerpiece Kits
A felt tree makes a great centerpiece because the Christmas tree is often the holiday gathering place in your home.  With each dinner or party you create important and memorable friendships with family, friends, and even strangers.   They will long remember the warmth of your hospitality.
Holiday gatherings are a time to meet new people and to spend time with the people who are already blessing your life.
 Bucilla Jeweled Felt Decorative Yummy Tree Centerpiece KitCheck Price
Felt Christmas Vehicle Centerpiece Kits
Bucilla Frosty Flight Kit or Santa's Vintage Car Kit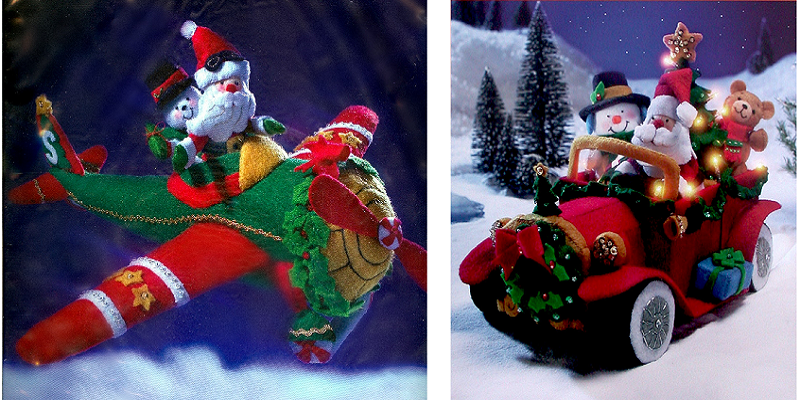 Decorate with unique felt centerpieces for those waiting for Santa to arrive! You can have either of these beautiful vehicles to adorn your dining table or other tables anywhere in the house. The fun imaginative scene gives everyone a sense of warmth, excitement and fun. There will be many memories created around this centerpiece for the holidays.
The colors are brilliant and will give your decorating style a bit of flair for the unexpected and the unforgettable.
Add cottony clouds with leftover fiber fill, model trees or even small houses around to make a complete holiday scene with either of these vehicles as the centerpiece.
 Santa Frosty Flight Felt Centerpiece KitCheck Price Bucilla Santa's Vintage CarCheck Price
Bucilla Sleigh Full of Toys Felt Centerpiece Kit
Go more tradition with the sleigh full of toys!
Felt Applique kit is another amazing felt kit to adorn your kitchen or dining room table during the holidays.  Giving the room a festive charm and showing how much you enjoy Christmas and the winter wonderland your decorations depict.
As your holiday felt kits begin to take shape, you will begin to see the realization of what dreams and traditions are made of during the holiday season.  The "Chock Full of Toys" centerpiece is the perfect reflection of a child's Christmas dreams.
 Bucilla Felt Applique Kit Set of 7 Chock Full of Toys Centerpiece #83122Check Price
Originally posted 2018-03-07 16:58:15.
---