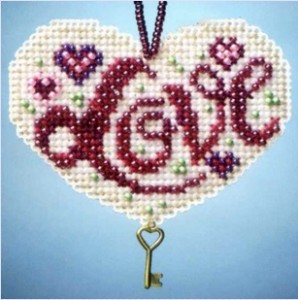 Valentine's Day Beaded Cross Stitch Kits give you a great way to create unique and keepsake quality gifts and decorations for your Valentine. You can create beautiful gifts that will be cherished. Consider these for Valentine's Day, Weddings, Anniversaries, or anytime you want to convey LOVE in your gift giving.
Crafting is a great way to show you care to take the time to personally make a great craft gift. Cross Stitch and Beaded Cross Stitch create such amazing results you are sure to create a huge impact with the gift you create using the art.
You can use any cross stitch pattern or design and adapt it to a BEADED cross stitch work of art by adding your own beads and beading thread to these kits. Let me show you some examples of how to embellish your own cross stitch kit for Valentine's Day.
Most Popular Valentine's Day Cross Stitch Kits for Beading
Find the most popular Valentine's Day Beaded Cross Stitch Kits you can buy
Saying "I Love You" is the main reason for the holiday of Valentine's Day. This design will give you a way to say it day after day all year long. Long remembered by this amazing project you can make and give to your loved one.
Select your favorite cross stitch kit that shares the message you wish to give and embellish that kit with beads, even if the beads are not included in the kit. Simply purchase the beads separately and add them yourself.
Here is an example of what I mean. I really love this adorable elephant cross stitch kit. It doesn't come with beads, but I think the beads would add a really unique accent for a one of a kind gift.
 Bothy Threads Love Elly Counted Cross Stitch KitCheck Price
This would be an easy kit to embellish with beads!
Since the picture is stitched on 14 ct. Aida fabric, you would need Size 11 beads.
I recommend using clear beads on the one dark stitch in each of the hearts on the elephant to make them stand out and sparkle. This is a fabulous way to put emphasis on the little hearts.
Or, you may prefer accenting the flowers with beads.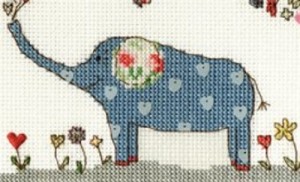 Size 11 Seed Beads
 Miyuki Round Seed Bead Size 11/0 8.5g CrystalCheck Price Blue Moon Bead Boutique Bead Box, Multi Color Silver Lined Seed BeadsCheck Price
Most Important Thing…
When you want to use a regular cross stitch design for beaded cross stitch you can easily do so by adding your own beads and beading thread to the kit.
Essential Beaded Cross Stitch Supplies
Make Your Own Valentine's Day Beaded Cross Stitch Kits
You will need a design, some thread and seed beads to make your own personalized beaded cross stitch kit.
The following items will get you started.
Select Your Cross Stitch Pattern or Kit
This Would Make a Lovely Valentines Beaded Cross Stitch Picture!
 Janlynn Cross Stitch Kit, Two Hearts One LoveCheck Price
 DMC Love Floral Cross Stitch KitCheck Price Vervaco Holding Hands Rose Wedding Sampler Cross Stitch KitCheck Price
Purchase Your Beads in the Colors You Wish to Use to Embellish the Piece
 Set of Seed Beads Size 11.0 . Five Colors 3 Oz or 75 GrmsCheck Price
Most Popular Valentine's Day Beaded Cross Stitch Kits
Are Kits and Projects Made with Love
This may be the most beloved scripture about love ever written. No matter what religious background you may have, this 'poem' about love is sure to have meaning for you.
And is also sure to have meaning to whomever you want to give it to. This is an elegant design you can bead on the frame edge and on the capital letters. Or, you can go all the way and bead cross stitch the whole design. Both ways will result in a remarkable keepsake gift.
 Janlynn Stamped Cross Stitch Kit, Love Is PatientCheck Price
More Great Buys – Find more Valentine's Day Beaded Cross Stitch Kits
Hearts are one of the most popular symbols for the Valentine's Day holiday. They are also most popular for Weddings and Anniversaries. The following examples may be for Valentines Day , Weddings, and/or a loved one's Anniversary. Give a gift that will be cherished and reminder of how important they are to you.
The time you spend on a beaded cross stitch project will greatly impact the recipient's response. Even the smallest trinket (a book mark, small necklace pendant, ornament, or gift tag) will be a great keepsake because you have taken the time to create it yourself of have had someone make it handmade for them.
The kits below all come with the beads included in the kits, but remember, you could also use any pattern your select for a Valentine's Day Cross Stitch Pattern Book.
 Love Beaded Counted Cross Stitch Charmed Ornaments Kit Mill Hill 2013 I Love MH163106Check Price Beaded Cross-Stitch Treasures: Designs From Mill HillCheck Price Love Stitching Beaded Counted Cross Stitch Charmed Ornaments Kit Mill Hill 2013 I Love MH163104Check Price Treasured Heart Beaded Counted Cross Stitch Ornament Kit Mill Hill 2006 Spring Bouquet MH18-6104Check Price
Originally posted 2016-01-05 17:36:39.
---