This beautiful cross stitch picture is so sweet! I can almost hear these birds singing their happy song. This Birdsong Duet picture is such a precious reminder that spring is never very far away and beauty is always around us.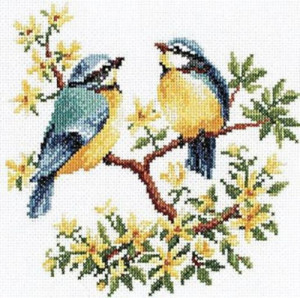 When I look at this precious artwork, I am in awe of how such beauty can be created with tiny little x's of cotton floss.  I applaud the artist and designer of this piece.  Not only will our homes be decorated with the lovely little blue birds, but the floral detail, as well as the tree branch background, all add their own color and graceful accents to the finished picture.
This cross stitch picture would be beautiful in any home and would make a fabulous gift for your bird-loving friend or relative.
Of course, you could stitch the picture for yourself and enjoy it's enduring charm for decades to come.
Everything you need to make this lovely picture is included in this kit.
Update:  At this time, I am sorry, but I do not have a vendor recommendation for this kit.
Learn to Cross Stitch: How to Cross Stitch
Originally posted 2014-05-06 22:02:15.
---