Make Beaded Ornaments ~ Tutorial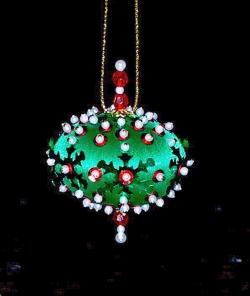 If you have never made your own beaded ornaments, here are a few resources that will help you.
How to Make Your Own Beaded Ornaments is an article that I personally wrote for beginners, but I truly believe there are several tips for experienced crafters too.
There are tons of pictures that will help identify needed supplies and aids that will help you bead the ornament faster and easier.
As with most crafts, the setup and organization before you begin, can make a world of difference.
Beware though, this is a craft that is so easy, you will find yourself making several beaded ornaments to give as gifts. Just be sure to keep one for yourself!
Beaded Ornament Kits:
The Glimmer Tree Iris Beaded Ornament Kit 3″ Herrschners® Ariel #58 Collector Ornament Kit Purple Perfection Collector Ornament Kit Beaded Craft Kit