This article contains affiliate links. If you click a link & purchase items, I will receive an affiliate commission at no extra cost to you.
Halloween will soon be here and it is definitely time to start thinking about our Halloween costumes.  I prefer making my own costumes simply because I prefer originality.  I enjoy having a unique costume and design that really is all my own.

Many sewing patterns give us multiple options and, of course, we choose our own fabric and embellishments.  I especially like historical costumes.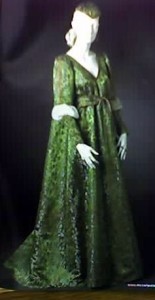 These are a few of the gorgeous patterns available today.  This beautiful renaissance dress is definitely a costume you could wear multiple times.  It will never truly be outdated.
Moving to a later time in history, you may prefer this lovely Victorian style often associated with the American Civil War period.

Either of these costumes would be beautiful and original when you add your own detail and embellishments!

SEE ADDITIONAL HISTORICAL PATTERNS & COSTUMES HERE:
Renaissance Fashion: Dresses, Style and Costumes
Victorian Era Fashion: Dress, Style and Costumes


---