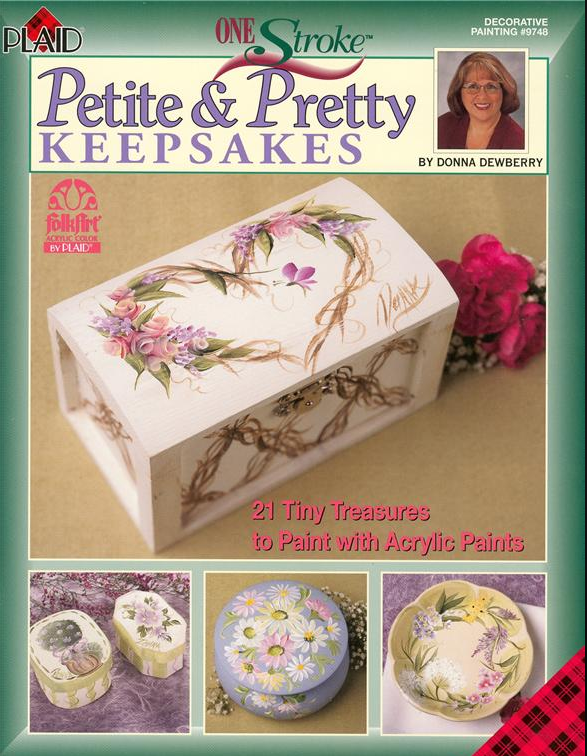 I'll be the first to admit, I can't draw or paint anything without a guide, stencil or template like the ones in the Petite & Pretty Keepsake decorative painting book.  Over the years, I have decorated lots of items, including the walls in our home, with the aid of stencils.  But, truthfully, I am not artistically talented.  It simply looks like I am.   I know you will all keep my secret.
Now, I am not going to tell you that you can take this book and start painting pretty flowers right away.  What I will tell you, is that you can trace the templates in this book, transfer them to your chosen medium and carefully paint the picture.  Think paint by numbers for adults.  No, there are no numbers, but Donna Dewberry does include several pages of worksheets that breakdown the sections to create an image.  When you can see a picture broken down in stages, it does make it easier to reproduce.
Buy the Book:  Petite & Pretty Keepsakes Book
The Petite & Pretty Keepsakes Book
This decorative painting book includes a lot of flowers, leaves, vines and insects.  It does take practice, but I opt to start with what looks the easiest to me.
For those of you who already know how to blend and shade, the book will provide you with ideas and inspiration in addition to the templates.  Once you have mastered the single flower design that you like, I recommend painting that single image on ornaments to give for Christmas.  You don't have to complete the entire project shown in the book until you are ready.  Truthfully, if all you ever do is paint rose buds on small ornaments then you will feel that wonderful sense of accomplishment.  You've done something you didn't think you could do.  At least, that is how I feel.
Crafting should be fun!  Remember, we don't have to be experts at everything to enjoy creativity and expand our own abilities.
Originally posted 2018-04-05 18:47:34.
---