This article contains affiliate links. If you click a link & purchase items, I will receive an affiliate commission at no extra cost to you. "As an Amazon Associate I earn from qualifying purchases."
The beach scene in this cross stitch picture beckons us to rest, relax and rejuvenate. The quote in this Joy of Living picture simply states, "I feel your wet shifting sand – Taste your sweet salty air… And I am renewed again … With the Joy of Living."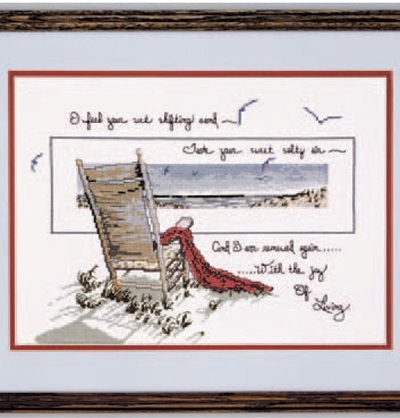 This is a picture you will want to stitch for yourself as a reminder of relaxing days and peaceful moments.  Or, you may want to give this cross stitch picture as a gift.  The unfinished kit would also be a great gift for the avid cross-stitcher who loves the beach.

Everything you need to make this awesome picture is included in this kit.

Update:  At this time, I am sorry, but I do not have a vendor recommendation for this kit.
Save
---